The King James Bible Translators
---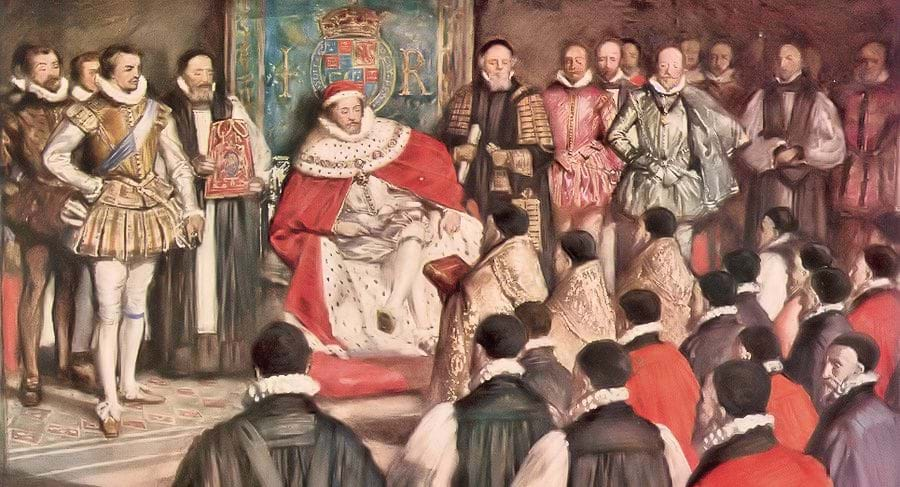 f the 54 invitations issued to join the team of King James Bible translators, only 47 of the men appointed for this work are known to have engaged in it. These were divided into six companies, two of which met at Oxford, two at Cambridge, and two at Westminster. They were presided over by the Dean of Westminster and by the Hebrew Professors of the Oxford and Cambridge Universities, and Archbishop Richard Bancroft was appointed as the principal overseer for the project.
---
Translation Company Work Assignments
---
FIRST WESTMINSTER COMPANY

FIRST CAMBRIDGE COMPANY

1 Chronicles - Song of Solomon

FIRST OXFORD COMPANY

SECOND CAMBRIDGE COMPANY

SECOND OXFORD COMPANY

Gospels, Acts & Book of Revelation

SECOND WESTMINSTER COMPANY
---
Short Biographies of Principal Translators
---
Dr.Launcelot Andrewes, Dean of Westminster, presided over the Westminster company. Fuller says of him: "The world wanted learning to know how learned this man was, so skilled in all (especially Oriental) languages, that some conceive he might, if then living, almost have served as an interpreter-general at the confusion of tongues." He became successively Bishop of Chichester, Ely and Winchester. Born 1555, died 1626.
Dr. Edward Lively, Regius Professor of Hebrew at Cambridge, and thus at the head of the Cambridge company, was eminent for his knowledge of Oriental languages, especially of Hebrew. He died in 1605, having been Professor of Hebrew for twenty-five years. His death was a great loss to the work which he had helped to begin, but not to complete.
Dr. John Overall was made Professor of Divinity at Cambridge in 1596, and in 1604 was Dean of St. Paul's, London. He was considered by some the most scholarly divine in England. In 1614 he was made Bishop of Litchfield and Coventry. He was transferred to the See of Norwich in 1618. Born 1559, died 1619.
Dr. Adrian de Saravia is said to have been the only foreigner employed on the work. He was born in Artois, France; his Father was a Spaniard, and his mother a Belgian. In 1582 he was Professor of Divinity at Leyden; in 1587 he came to England. He became Prebend of Canterbury, and afterward Canon of Westminster. He was noted for his knowledge of Hebrew. Born 1531, died 1612.
William Bedwell, or Beadwell, was one of the greatest Arabic scholars of his day. At his death he left unfinished MSS. of an Arabic Lexicon, and also of a Persian Dictionary.
Dr. Laurence Chadderton was for thirty-eight years Master of Emanuel College, Cambridge, and well versed in Rabbinical learning. He was one of the few Puritan divines among the translators. Born 1537; died 1640, at the advanced age of one hundred and three.
Dr. John Reynolds, who first suggested the work, was a man of great attainments in Hebrew and Greek. He died before the revision was completed, but worked at it during his last sickness as long as his strength permitted. Born 1549, died 1607.
Dr. Richard Kilbye, Oxford Professor of Hebrew, was reckoned among the first Hebraists of his day. Died 1620.
Dr. Miles Smith was a student of classic authors from his youth, was well acquainted with the Rabbinical learning, and well versed in Hebrew, Chaldee, Syriac and Arabic. He was often called a "walking library." Born about 1568, died 1624.
John Boyse, or Bois, at six years of age could write Hebrew elegantly. He was for twelve years chief lecturer in Greek at St. John's College, Cambridge. Bishop Andrewes, of Ely, made him a prebend in his church in 1615. He was one of the most laborious of all the revisers. Born 1560, died 1643.
Sir Henry Saville was warden of Merton College, Oxford, for thirty-six years. He devoted his fortune to the encouragement of learning, and was himself a fine Greek scholar. Born 1549, died 1622.
Dr. Thomas Holland was Regius Professor of Divinity in Exeter College, Oxford, and also Master of his college. He was considered a prodigy in all branches of literature. Born 1539, died 1612.
---
The Full List of Translators
---
TRANSLATION OVERSEER

Archbishop Richard Bancroft

COMMITTEE OF TWO

Thomas Bilson
Miles Smith

COMMITTEE OF REVISERS

John Bois
Andrew Downes
John Harmar

FIRST WESTMINSTER COMPANY

Lancelot Andrewes (Director)
William Bedwell
Francis Burleigh
Richard Clerke
Geoffrey King
John Leifield
John Overall
Hadrian Saravia
Richard Thompson
Robert Tighe

FIRST CAMBRIDGE COMPANY

Edward Lively (Director)
Roger Andrewes
Andrew Bing
Laurence Chaderton
Francis Dillingham
William Eyre
Thomas Harrison
John Richardson
Robert Spaulding

FIRST OXFORD COMPANY

John Harding (Director)
Richard Brett
Richard Fairclough
Daniel Featley
Thomas Holland
Richard Kilby
John Reynolds
Miles Smith
William Thorne

SECOND CAMBRIDGE COMPANY

John Duport (Leader)
John Bois
William Branthwaite
Andrew Downes
Jeremiah Radcliffe
Robert Ward
Samuel Ward

SECOND OXFORD COMPANY

Thomas Ravis (Leader)
George Abbot
John Aglionby
Richard Edes
John Harmar
Leonard Hutton
James Montegue
John Perrinne
Ralph Ravens
Henry Savile
Giles Thomson

SECOND WESTMINSTER COMPANY

William Barlow (Leader)
William Dakins
Nicholas Felton
Roger Fenton
Ralph Hutchinson
Arthur Lake
Nicholas Love
Michael Rabbett
George Ryves
Thomas Sanderson
John Spencer

TRANSLATOR

PRINTER

CONTRIBUTORS

John Speed (Genealogies, Map)
Cornelis Boel (Artist/Engraver)
John More (Map)
Renold Elstrack (Engraver)
Hugh Broughton (Genealogies)
---