The Great Fire of London
---
WHY DO WE NOT KNOW MORE ABOUT
THE ORIGINS OF THE KING JAMES BIBLE?
---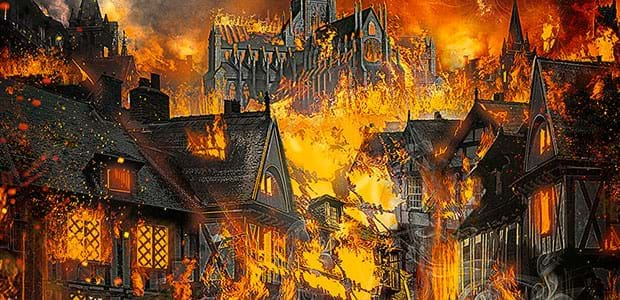 fter the translation work on the King James Bible was finished, the majority of the translation notes were stored in the London Guildhall Library. Although much of the stone built Guildhall survived, the library did not.
In the Great Fire of London of 1666, the Guildhall Library was consumed by fire. The existing historical records of the London Fire Brigade still bear witness to the fire in the Guildhall.
The Great Fire of London swept through the central parts of the English city of London from Sunday, 2 September to Wednesday, 5 September 1666. The fire gutted the medieval City of London inside the old Roman city wall. It consumed 13,200 houses, 87 parish churches, St Paul's Cathedral, and most of the buildings of the City authorities, including the Guildhall library. It is estimated to have destroyed the homes of 70,000 of the City's 80,000 inhabitants. When the fire subsided, 436 acres (about 80%) of London had burnt to the ground.
The world has lost a historical treasure. There exists today scant evidence of the preparation notes of the KJV translators. The only records still in existence are those which were held outside of the old London city Roman wall. Some historical evidence still exists at the Bodleian Library at Oxford University, but this is only a fraction of the workings.
---